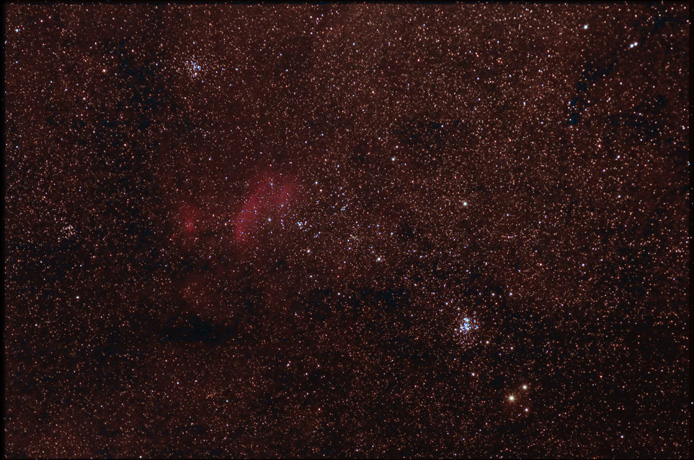 ---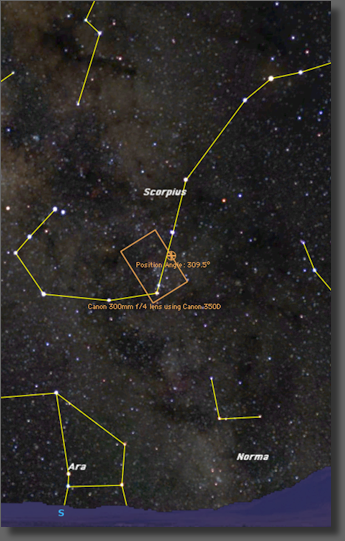 Scorpius includes several beautiful objects (bright and dark nebulae, open and globular clusters). The area just 'above' the curve of the tail is especially rich. One of the bright open clusters, NGC 6231, is known as the Northern Jewel Box because of its assortment of brilliantly colored stars. The cluster is thought to be quite young - perhaps only several millions of years old - so it contains a myriad of bright blue, type B stars.
The Jewel Box was a favorite of Dick Olson - an old ASLC member who passed away a few years ago. Each year at the Texas Star Party, Dick would rave about the beauty of the Jewel Box. So in his honor, I decided to capture a wide field image of NGC 6231 as well as some of the other beautiful objects in this part of the sky.
This object was imaged at the 2011 Texas Star Party. using a 200 mm Canon f/2.4 lens and a modified Canon T2i. The camera was mounted atop an Orion ED80 which was used for guilding. The map on the right shows the area captured in this image.
If you do a mouseover of the image above, the names of some of the objects in the field of view will be revealed. Clicking on the image will open a somewhat larger version of the image.
Enchanted Skies - Astrophotography by Rich Richins (all images copyright, Rich Richins)