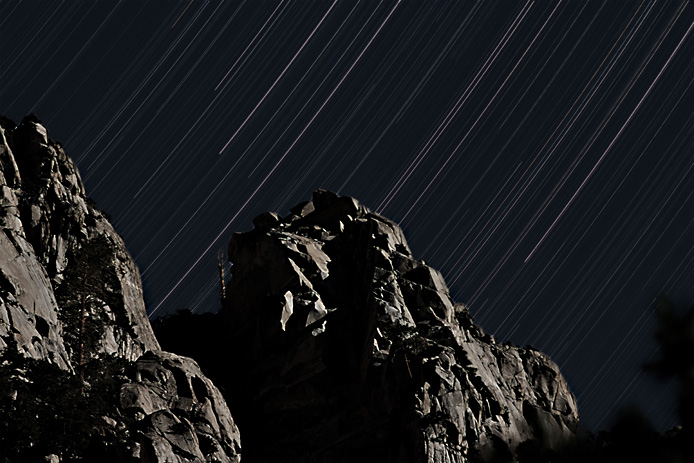 ---
Two weeks before the 2017 solar eclipse, I started driving toward Eugene via Flagstaff (Meteor Crator) and US 395. On Monday night, I camped up at Whitney Portal Campground (site #36). The full moon was just rising and illuminating the rock wall to my north. The reflection was so bright it almost looked like snow.
One problem with doing star trails is that the stars end up being illuminated a whole bunch more than the foreground objects. So I deliberately toned down the startrail brightness to try to give the image a more natural look.. I'm happy with the look of the reflected moonlight against the rock wall.
This image was captured with my T2i and a Canon 200mm f/2.8 lens. The camera was tripod mounted. I used about 75 x 1 minute subs to creat the image. No alignment was necessary. Stacking was with Adobe Photoshop.
If you click on the image, a larger one will appear.
Enchanted Skies - Astrophotography by Rich Richins (all images copyright, Rich Richins)